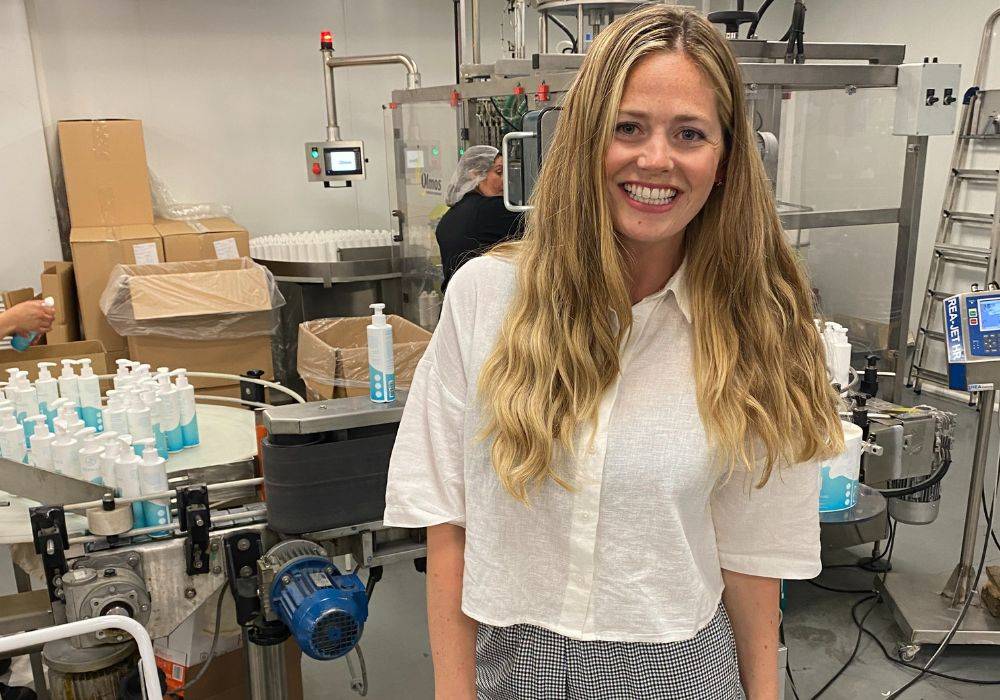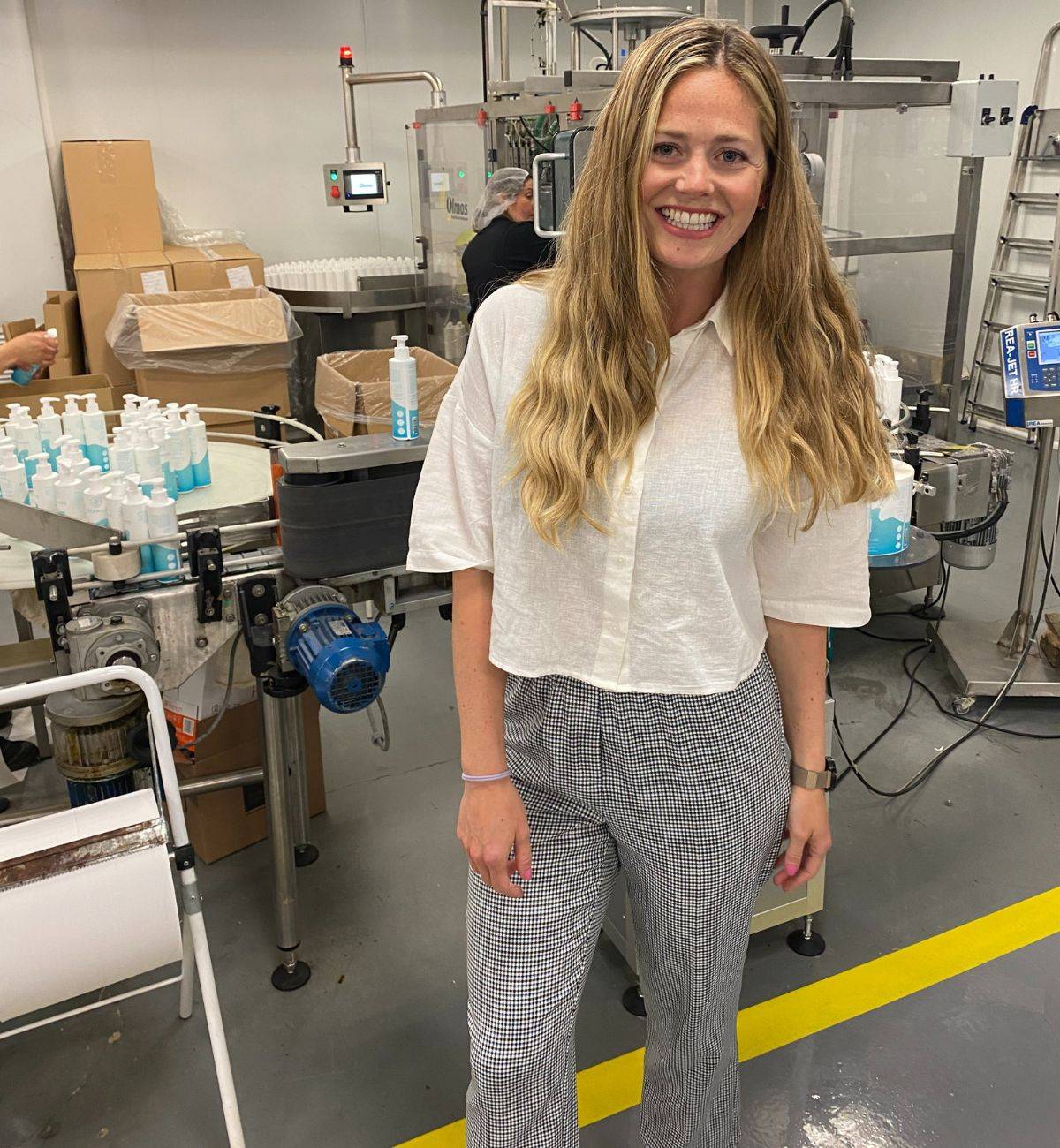 Day In The Life Of Running Merwave
We all like being nosey don't we? Well I do anyway. So I thought I'd share a day in my life with you.
I'd love to say that I wake up, meditate, practise mindfulness, drink a greens smoothie, have set working hours with screen time breaks and drink 5 litres of water. Yet in reality I'm running around after 2 kids, trying to grow a business and drinking a lot of tea!
Here's what a typical day looks like...
Alarm goes off and I drag myself to the gym or for a run depending on the weather.
Confession time, I hate running in the rain as it just makes my hair super tangled so I try and avoid that. I love running in the cooler months and seeing the sunrises over the sea.
I always sleep on a silk pillowcase. It's so good for taming frizz and my skin doesn't dry out either!
My hair is always tied up for exercise, however once I am finished I do take it out.
Back home and straight into getting the kids ready.
Either myself or my husband (Tom) drop our little boy off at nursery. Tom also works full time for Merwave.
Then embark on the daily battle of sorting my daughter's hair out for school. I always thought detangling my own hair was hard work, yet this is a whole different level. It's carnage.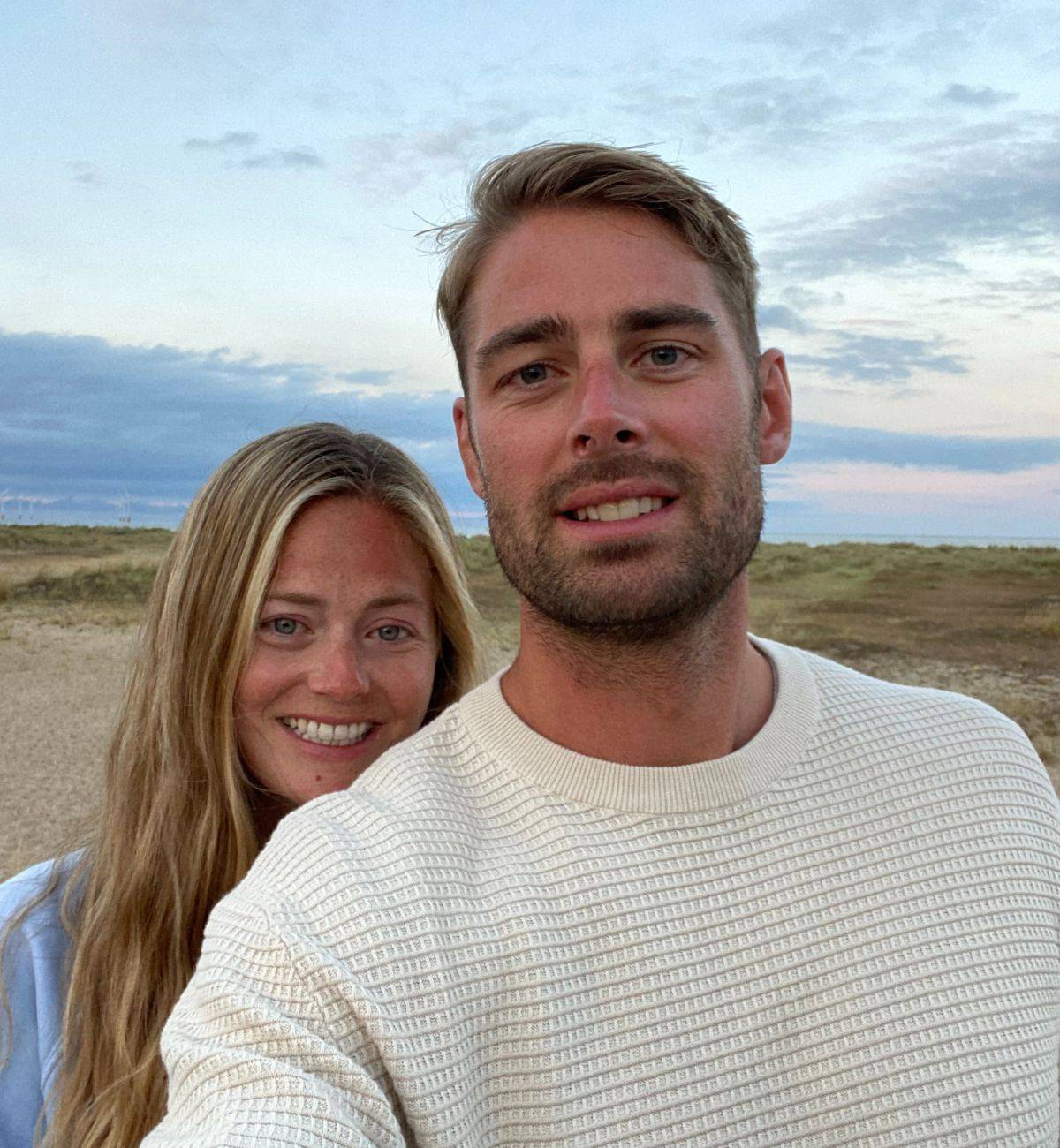 Kids sorted, time to dive into Merwave.
I should say now that no two weeks are the same but one thing's for certain...I am constantly checking my phone!
Social media can be wild in both good and bad ways. Some days I check and a random video has gone viral. Others I check and the trolls have been out in full force. During the early days this really got to me. Nowadays I just delete the comments and move on.
I get ready and assess what my hair needs. Usually it's just a quick refresh with our Refresh Spray, but sometimes it needs wetting through and more step 5 (Protect Gel) adding and a quick scrunch.
Once my hair is dry I tend to add oil to give it a bit of shine and lock that moisture in.
In summer I love letting my hair air dry but in winter I tend to diffuse or else it'll stay wet all day!
My priority is always the customer so I spend an hour replying to messages and emails. As we've grown the volume of customer support tickets has also gone through the roof, so we've taken on Marsha to help with customer service. She's amazing.
Working alongside your husband adds a whole new dynamic to things. Tom deals with the paid media, logistics and finance side of things. Whereas I oversee content creation, customer service and product development.
So we're not joined at the hip all day, Tom will venture off to a coffee shop for a couple of hours and work from there. Well that's what he tells me, he could just be eating cake and reading his book!
Once a week I wash my hair and film new content. I try to film content that is educational. The world of wavy hair is a minefield. So I'm constantly recording new material or writing helpful articles on how to care for your waves.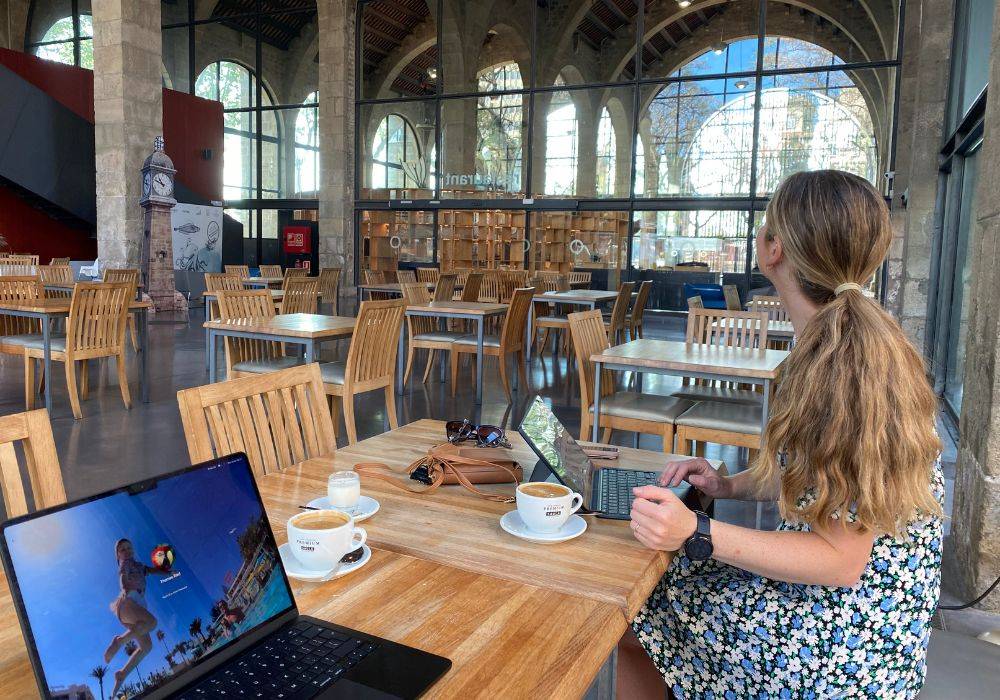 Pick the boy up from nursery. Put him to bed. Quick lunch of chicken and salad.
Tom and I then work on bigger projects.
This could include: reviewing new products that we're looking to launch, exploring retail opportunities, live events, international expansion, organising photoshoots, planning marketing campaigns. The list goes on.
When we first launched Merwave I'd spend hours in the garage picking and packing orders. I got through 50 episodes of Masterchef Australia during that period!
Luckily we've got a warehouse team who deal with this now.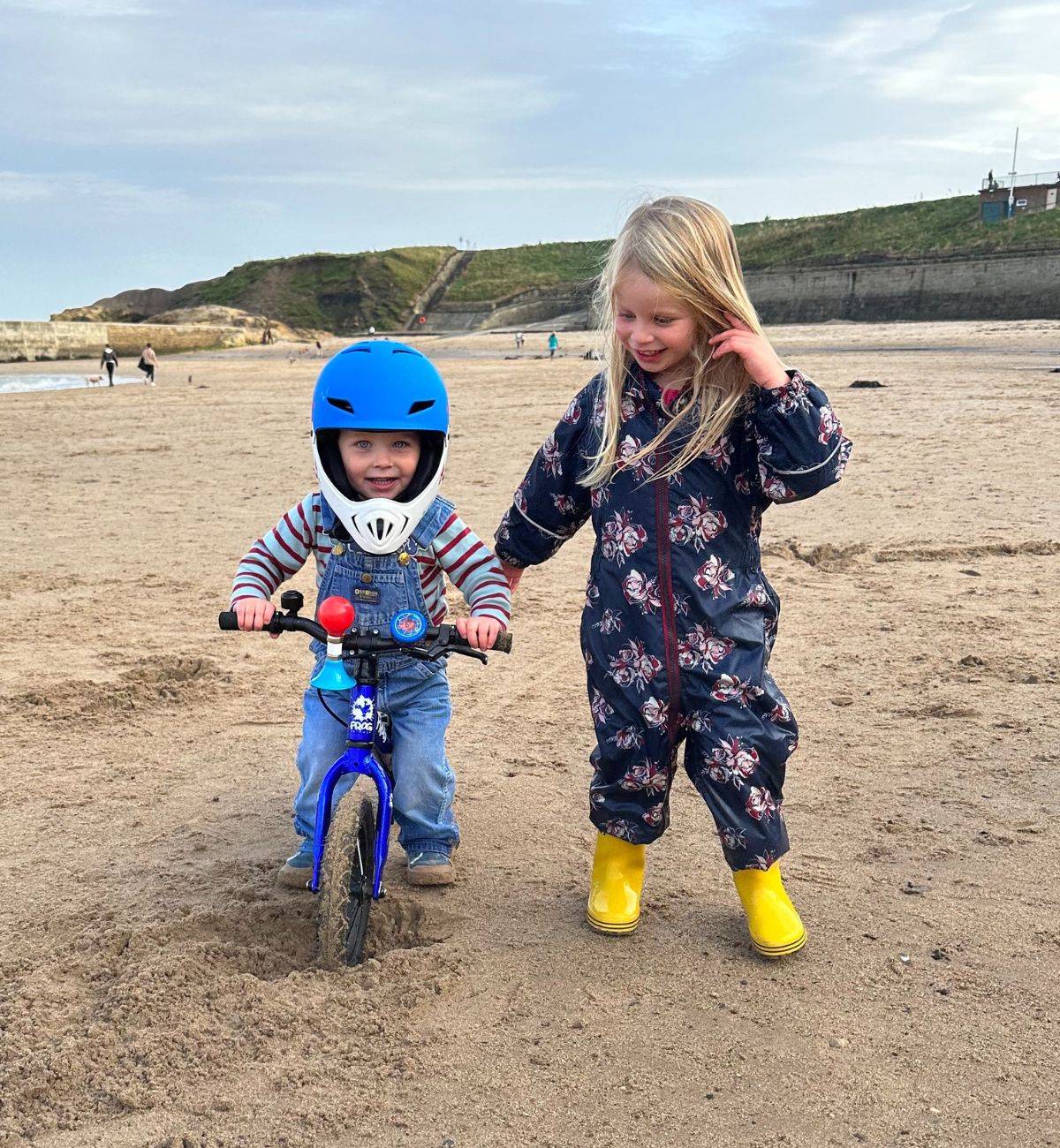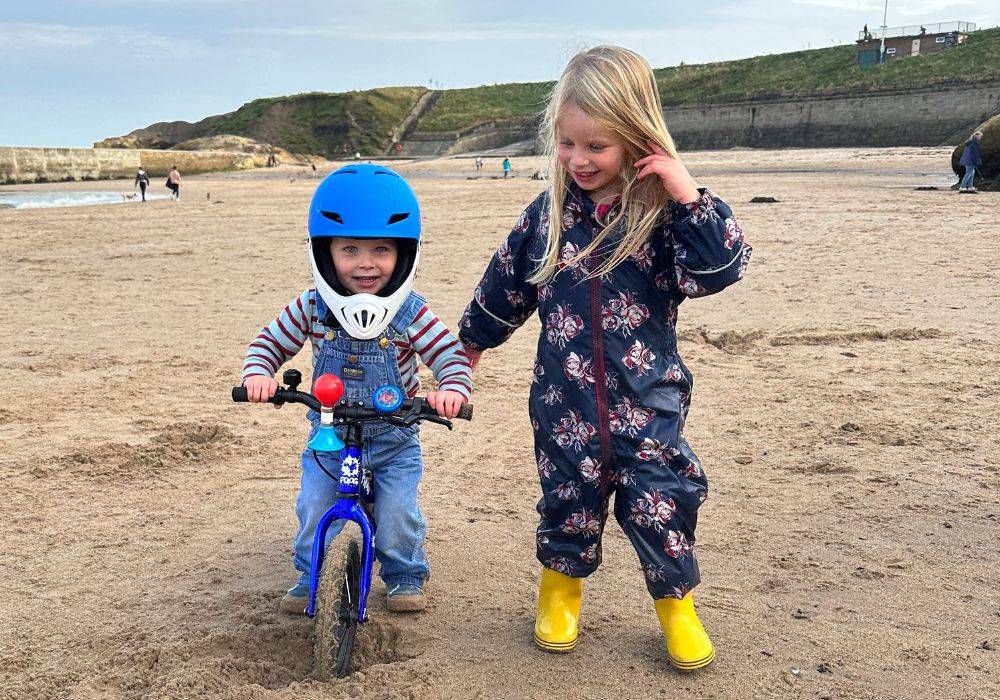 Pick my daughter up from school then family time.
We'll all head to the beach, park or rugby club for a couple of hours to tire the kids out.
My 2-year old boy is obsessed with his balance bike. He's fearless. So we've had to get him a full face helmet to limit trips to A&E. Tom's goal is to find the steepest hills for him to ride down, whilst I'm watching holding my breath!
My 4-year old daughter is more like me. Barbies, painting nails, tea-parties are her vibe. She's also turned into a little Merwave saleswomen, helping me issue samples in Newcastle or telling her teachers about us.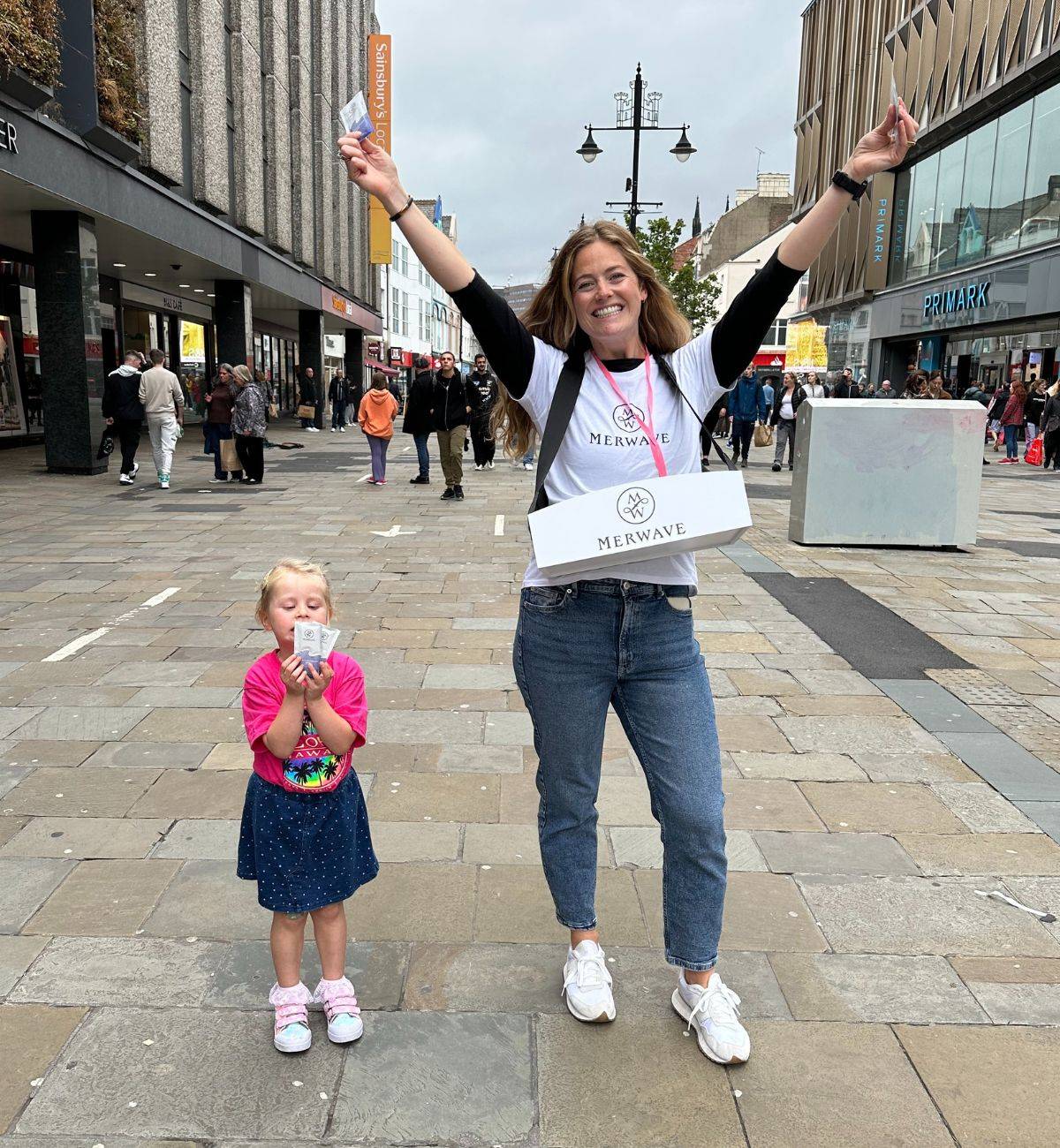 Dishing our samples in Newcastle
Once the children are fed, bathed and asleep I spend 10 minutes planning tomorrows to do list.
Although Merwave is coming up to being 3 years old there's always something new to learn or a fresh problem that crops up. You just have to act on the fly and deal with everything that's thrown your way.
Days can be stressful and exhausting. Our checkout might stop working, stock arrives damaged or like last year when Royal Mail decided to strike over Black Friday week! That was a nightmare.
On the flip side, others are unbelievably rewarding. We receive lovely messages from customers saying our products have transformed their life and they've never felt so confident. They always put a smile on my face.
Once a week I go to Spanish lessons. This allows me to concentrate on something other than hair.
Then wind down by watching tele. Current favourites are Married At First Sight, Masterchef (obviously) and the series Yellowstone.
Bed!
And that's a day in the life of running Merwave.